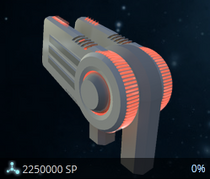 | | |
| --- | --- |
| Science Level | 9 |
| Cost | 2250000 SP |
| Benefit | +20% to medium-class spaceships' attack. |

The functioning of this gun is based on the interaction of mesons and antimatter resulting in the burst of energy. Because of its small weight, the gun is being used for the enhancement of firepower of medium spaceships.
Ad blocker interference detected!
Wikia is a free-to-use site that makes money from advertising. We have a modified experience for viewers using ad blockers

Wikia is not accessible if you've made further modifications. Remove the custom ad blocker rule(s) and the page will load as expected.