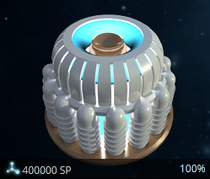 | | |
| --- | --- |
| Science Level | 7 |
| Cost | 400000 SP |
| Benefit | +50% to space debris processing efficiency. |

The impact of intensive neutron beams enhances the processing of debris into useful chemical elements. This technology allows more resources to be obtained from space debris.
This bonus only applies to Processing Plant, not to debris collected by Engineering Spaceship. Once this upgrade has been completed, Processing Plants will recover 30% resources from debris.
Ad blocker interference detected!
Wikia is a free-to-use site that makes money from advertising. We have a modified experience for viewers using ad blockers

Wikia is not accessible if you've made further modifications. Remove the custom ad blocker rule(s) and the page will load as expected.