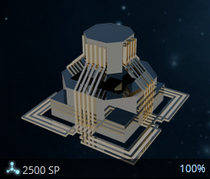 The Pionic Accelerator is a special device used to generate the proton flow that will later interact with metal-producing pion beams. These beams are then used to irradiate obtained resources. In this way, they increase the amount of useful substances produced from raw materials.
Ad blocker interference detected!
Wikia is a free-to-use site that makes money from advertising. We have a modified experience for viewers using ad blockers

Wikia is not accessible if you've made further modifications. Remove the custom ad blocker rule(s) and the page will load as expected.