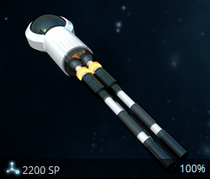 The Positron Gun uses intensive positron beams to deal precision damage to enemy spaceships. As they come into contact with the ship's plating, the positrons form billions of microcracks, gradually destroying the spaceship's defensive barrier.
Ad blocker interference detected!
Wikia is a free-to-use site that makes money from advertising. We have a modified experience for viewers using ad blockers

Wikia is not accessible if you've made further modifications. Remove the custom ad blocker rule(s) and the page will load as expected.