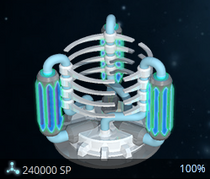 A space base is a structure built to deploy fleets in a system. It is built by engineering spaceships in your own systems, friendly systems, or unsettled systems, or in enemy systems that are not currently defended. You can only build one space base per system.

It requires 3 Colony Ships and approx 600 Engineers for the duration of construction. If construction is interrupted, the base will be destroyed.
Ad blocker interference detected!
Wikia is a free-to-use site that makes money from advertising. We have a modified experience for viewers using ad blockers

Wikia is not accessible if you've made further modifications. Remove the custom ad blocker rule(s) and the page will load as expected.